⭐ Chevereto Godlike
Chevereto Staff
Administrator
Hey there,
I want to share something that we are still working out and that I'm sure you will enjoy: 🎉
We will introduce new editions for Chevereto!
This will enable us to offer more paid tiers and evolve from the mono-pricing scheme. As you may know, Chevereto has a single pricing all-in which could be overkill for some use cases and it spreads a lot the user base of the software. This mono pricing doesn't enable us to focus neither to expand ourselves to more users.
What will happen during the
following weeks
is that we will rollout a free tier, exclusive for personal usage and
our current paid offering will be renamed to Chevereto Pro
. If you own a Chevereto V4 license you already own a Chevereto Pro license. Here's screen captures for the features that we are going to include in this Pro tier: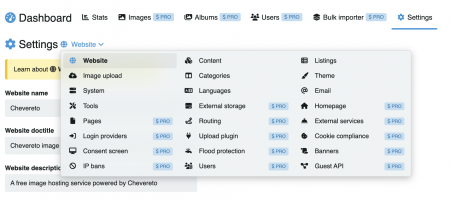 We will start with two tiers
, but eventually we will add more and more. For instance, a community tier or even an enterprise tier where we will ship features like subscriptions, custom oAuth providers, SSO/SAML, etc. We are open to seriously tweak the offering to suit better more use cases of the software.
The new Chevereto editions (tiers) will enable us to charge the right users for the features they will use and care. Is all about a fair pricing, pay for for what you need to use and not pay with money from your pocket for what others need.
Hope you like the heads up!