Hi Guys
I have a new RSS feeds module which is great for image hosting websites where users can take your feed url's and add them to RSS aggregates.
The feed module has 2 types of feed, the first is a feed that lists all posts, the second is all your feeds split into your categories so someone can aggregate just a certain category instead of all your posts together.
A new PHP page is created with the module to list all your feed categories and a link in the header is added with an RSS feed icon to show your users you now have RSS feeds to offer.
I have set the feeds to cache the top 50 of each feed but you can change this number to whatever you want as the cache will handle large XML files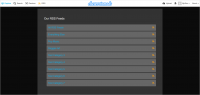 This mod is $10.00
RSS feed Mod + Sitemaps Mod = $15
Installation by me is FREE if you ask for it.
Full install docs and all files supplied in the download
https://cheveretomods.com/rss-mod.html