💡Describe your Feature request
Since the german DSGVO
(and similar laws in the rest of EU)
, I think we need some Features/Optimisations.
1.)
• The
Cookie
-Hint should have an accept and decline button
• On decline the site should block all external cookies like google ads, analytics, matomo etc.
• At minimum, the X "close" should be an "Accept" button, but it has to Block other cookies.
• "Choose your cookies" would be the best way, but I think it's to complicated?!
2.)
• The
Contact-Form
needs a checkbox "I read and accept the terms", if not checked, you can't use the send-button.
• Same for
Guest-Uploads
(best on upload-site, where the user can choose the categorie and edit Imageinfos, below the green "Upload-Button")
3.)
• The User should have the option to
delete his Account
.
• Best with option "Keep files" and "delete my files". If keep, the pictures should be assigned to guest or change the Username to "guest" or "Deleted User"
4.)
• Because the user has the right to request all his stored information, it would be nice to have a button in the profile
to download all the
user-information as CSV or TXT
.
I have this option in my phpbb board, the user can download 2 csv:
All his stored Userinfos, like IP, last login, Browser, all profile fields. So everything about the user in the Database.
All his posted contet. I think on this site it should be the picturenames with date, Likes, Follows etc.
5.)
• A line in the profile with the date, the user has accepted the
Privacy policy
,
with a Revoke button.
• If the User clicked on Revoke, he can't use the site/features except his profile
• Admin-Option to list and remove/delete Users which revoked the Privacy policy (or Automatic remove after 14 days, with "keep" checkbox like 3. )
6.) All IP adresses have to be anonymized after a certain time (14 days for me)
7.)
• Litte other Request: an internal comment-system, so we don't have to use Disqus, which is better for everything above.
8.)
• Also
Important:
Option to report Images to Admin/moderation with a small reason text (or predefined dropdown reasons)
• Would be nice to have a new tab "reported" on the /moderate site.
👏Where did you saw this?
On many other sites in the EU and my own sites like my phpbb board.
Point 2: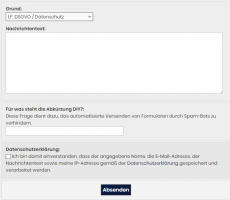 Point 4 and 5:

______________________________________________________________________________
If someone has some solutions an tips, please post it, I will try it out ;-)
Much thanks and greetings from germany.
Yes, I know, DSGVO/GDPR is very very annoying!
Last edited: