💡Describe your Feature request
go to /dashboard/settings/image-upload
activate a option: Moderate uploads
If someone uploads a new image, this must first be manually activated by a moderator or admin so that this is visible to all.
Well, the moderator or admin unfortunately gets nothing of it that there is new content, so it would make sense from my point of view if there would be an indicator that shows you that there is new content which should be paid attention to.
A kind of ajax query which searches for new content in the content to be moderated and visualizes it to the moderator (in the upper area).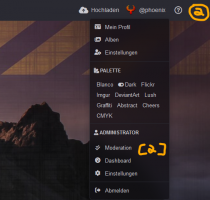 👏Where did you saw this?
There is something similar in Chevereto for the enabled debug function.
In various forum systems there is a display above how many new posts there are or similar.
🔥Interest outside our community
-