💡Describe your Feature request
During registration, the user must agree to the TOS by checking a box. But when you upload images as a guest there is no such checkbox. It turns out that guests do not care about TOS and they can do whatever they want, because they did not agree. This is rather illogical.
I propose to add the ability to put a checkbox for guests with the requirement to accept the TOS before uploading, as well as it is implemented during registration.
Something like that: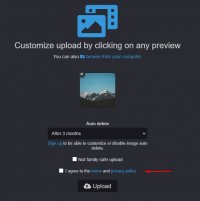 👏Where did you saw this?
I thought of it myself.
🔥Interest outside our community
I don't think I can find something like that.