I think the 'Rich' editor is a recent addition and now it's the new default in the latest Vanilla forum v.3.3. It's a simpler editor geared for mobile use, and with that editor enabled, the upload button won't display on a desktop, tablet, or mobile.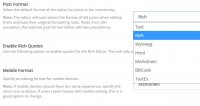 The theme in use is the default theme - for both desktop and mobile - and has only minor CSS tweaks and a couple of very basic plugins enabled. Using any other selected editor type with the provided 'Advanced Editors' plugin enabled will insert the upload button under the div for the comment textarea.
@Rodolfo
... If it would help to have access to the forum backend, I have a test instance setup online and can set up an admin account for you to explore with. PM or email me and I'd be happy to send out an invitation... public registrations are disabled.