Network license
License owner
Joined

Jun 16, 2018
Messages

4
Points

51
Location
Website
Fill out this template accordingly with the issue you are experiencing. Add relevant files if needed.
Don't @mention to grab attention. Don't edit the titles of this template.
Remove this paragraph when done
.
Description of the issue
Unable to setup S3 credentials because Account and Key is unknown.
▶🚶‍Reproduction steps
Go to AWS, generate Access Key ID and Secret Key & new user.
Assigned policy to the user.
Generate a bucket.
Tried to add all the credentials to Cheverto interface.
Unexpected result
Hi,
I'm trying to setup AWS S3 external storage for Cheverto, however, I'm not sure what I should fill into the fields...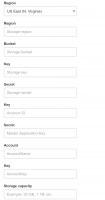 I know the first three and the last one, but not sure where I should fill the IAM account key and secret key id, and what should be filled for other fields.
Error log message