Phoenix Foto Service
Beta tester
🚶‍Reproduction steps
go to: https://demo.chevereto.com/search/images/?q=apng
or go to https://demo.chevereto.com/ and search at "apng"


The pictures are probably in a file size (dimensions and size) that the script no longer makes a reduction and instead also shows the original in the preview.
Unexpected result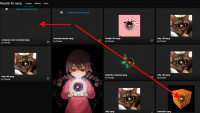 For the first time, some pictures are already animated.
When you finally press the play button, the picture is no longer available.
Error log message
--